All image reproduction rights reserved to the artist.
︎
k.flueck@gmail.com
Represented by Galerie Heinzer Reszler, Lausanne
www.heinzer-reszler.com
Instagram
︎
Newsletter: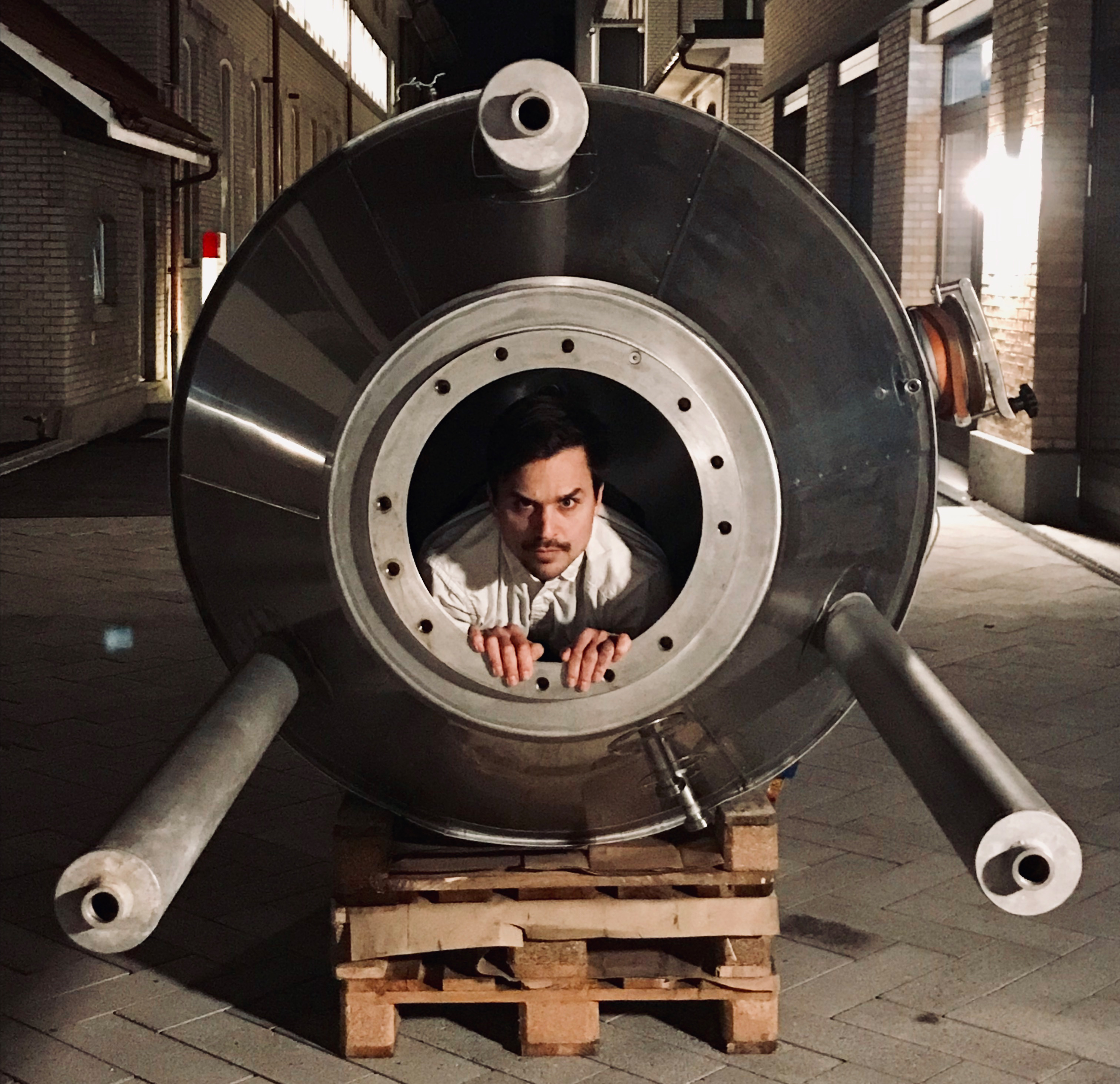 Kaspar Flück
is born 1989 in Solothurn, Switzerland. He visited the School of Visual Arts in Biel, Switzerland, where he graduated in 2009.
Katharina Holderegger, Kunstbulletin 4/2018 writes:
Kaspar Flück (*1989, Solothurn) opens multiple and ambiguous spatial structures in his classical oil paintings, waving between light and dark, in layers repeatedly reamed. Similar to puzzles, the paintings leave open whether one looks into spaces or at bodies. Birth cave and star birth thus overlap even more intimately than in religious painting, but at the same time without any Christian sentimentality. With Michael Biberstein (1949-2013), the baroque Solothurn has already produced an artist who catapulted himself from the aesthetically exuberant historical epoch directly into modernism. However, the latter rather docked to the light frescoes of the late Baroque, while Flück explores the dramatic Chiaroscuro painting of the altar paintings of the 17th century anew.
Katharina Holderegger, Kunstbulletin 4/2018 schreibt:
Kaspar Flück (*1989, Solothurn) öffnet in seinen klassischen, zwischen hell und dunkel wogenden Ölgemälden in immer wieder neu aufgeriebenen Schichten vielfache und mehrdeutige Raumgebilde. Ähnlich wie Vexierbilder lassen die Gemälde offen, ob man in Räume sieht oder auf Körper blickt. Geburtshöhle und Sternengeburt überlagern sich damit noch intimer als in religiöser Malerei, aber zugleich ohne je christliche Sentimentalität. Aus dem barocken Solothurn ist mit Michael Biberstein (1949-2013) bereits ein Künstler hervorgegangen, der sich aus der ästhetisch überschwänglichen historischen Epoche direkt in die Moderne katapultierte. Dieser dockte jedoch eher an die lichten Fresken des späten Barocks an, während Flück die dramatische Chiaroscuro-Malerei der Altarretabel des 17 Jh. neu auslotet.
EDUCATION
2006-2009
Graphic design, School of visual arts, Biel, Switzerland.
2005
Preliminary course in visual arts, Biel, Switzerland
AWARDS AND GRANTS
2018
Kulturförderpreis des Kantons Solothurn
Bildende Kunst
2010
Azeiger Kulturförderpreis
2009
Förderpreis der Rentsch Stifung,
Bildende Kunst
2009
Innovationsboss-Preis der Agentur ProForma,
für beste Abschlussarbeit Grafik SFGBB
2009
Auszeichnung beste Abschlussarbeit Illustration SFGBB, der Fachklasse Grafik
EXHIBITIONS

PAST
2019
31.01 - 03.02.2019
Solo Exhibition
with Galerie Heinzer Reszler
ArtGeneve
Palexpo Geneva
www.artgeneve.chwww.heinzer-reszler.com/
2018
10.11.2018 – 06.01.2019
Kantonale Jahresausstellung Solothurn
Kunstmuseum Solothurn
www.kunstmuseum-so.ch
07.12.2018 – 23.12.2018
Ausstellung Kantonaler Förderpreisträger
Künstlerhaus S11 Solothurn
www.s11.ch
SOLO
'Dark Dreams, Inner Light'
Galerie Heinzer Reszler, Lausanne
2013
GROUP
'Brasserie Saint-Jo'
John Beech, Kaspar Flück, David Rabinowitch,
Pavel Schmidt, Peter Wüthrich, Wolfgang Zät
Haus der Kunst St. Josef Solothurn
www.hausderkunst.ch
2012

GROUP
'Flück Rieder Flück'
Jakob Rieder, Anna Flück, Kaspar Flück
Galerie 9 Solothurn
2011

GROUP
Azeiger Gruppenausstellung
Schlösschen Vorderbleichenberg
Solothurn
SOLO
'Weite Welten'
Näijere-Huus
Hersiwil
SOLO
'Aufbruch'
Galerie Hedy Ernst
Aarwangen
SOLO
2010

GROUP
'Freispiel' Graphisches Kabinett,
Kunstmuseum Solothurn
2009
GROUP
Kantonale Jahresausstellung
Kunstmuseum Solothurn
2008

GROUP
Kantonale Jahresausstellung
Kunstmuseum Solothurn
PRESS&MEDIA
«Kulturfilz» – ein Podcast von Tsüri.ch
mit Kaspar Flück

Juni 2019
https://podcasts.apple.com/us/podcast/kulturfilz-kaspar-flu-ck/id1352276505?i=1000442689515
︎
Kunstbulletin 4/2018
Solothurner Zeitung Mai 2018